---
At Courage Reins, our programs are designed for those suffering from various physical, mental, and emotional challenges. Our clients' unique needs determine the treatment plans offered. Our goal is always to provide the best and most therapeutic experience possible. In an effort to maintain the highest levels of proficiency while also addressing a broad range of challenges, we offer five specialized approaches to equine therapy.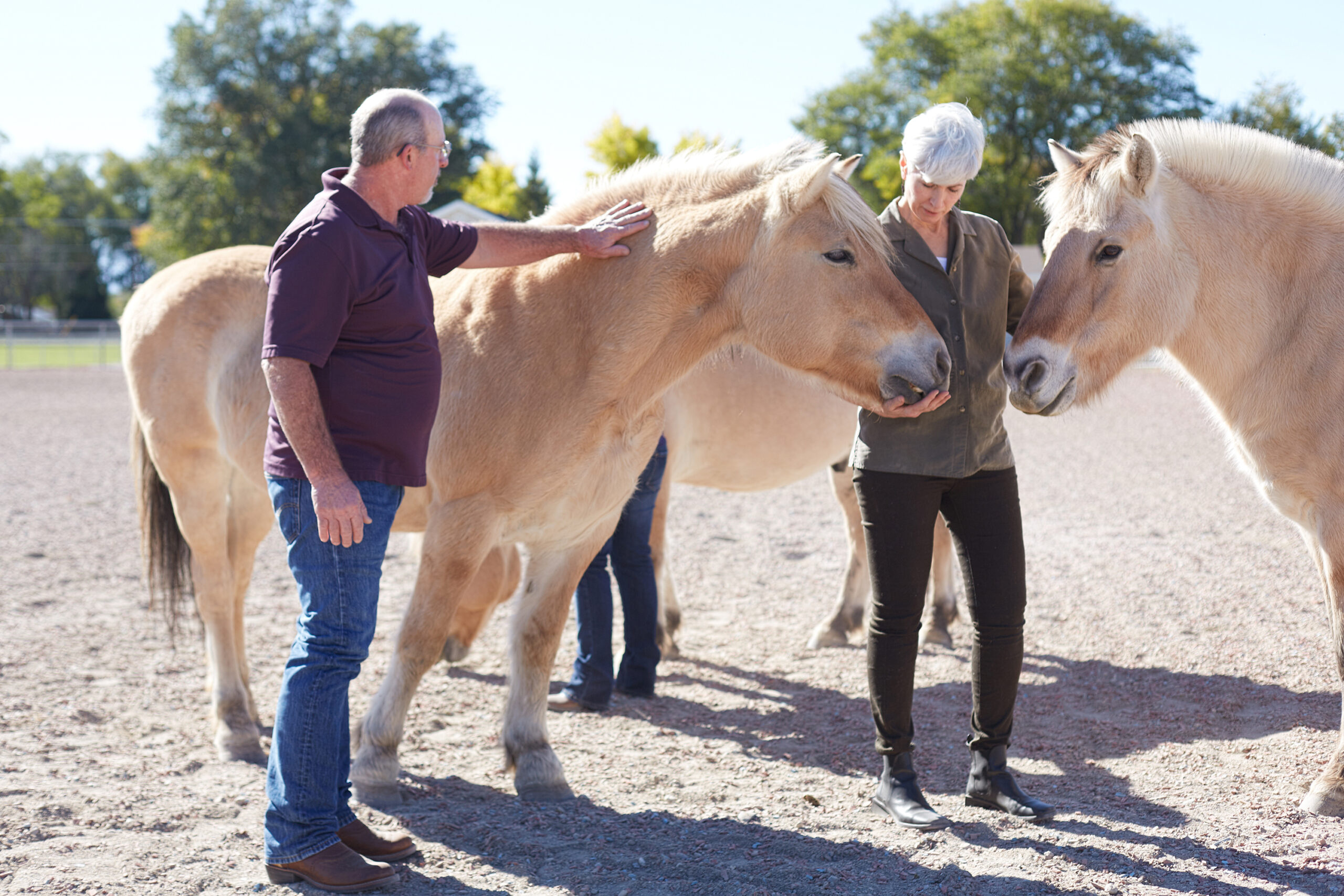 ---
---
Mental & Behavioral Health Therapy
Support, understanding, empathy, education, hope, and healing can all be found at Courage Reins. Sage O'Brien, our full time mental and behavioral health therapist, is both a licensed clinical social worker (LCSW) and a substance use disorder counselor (SUDC). 
Sage is currently providing individual, couples, and family psychotherapy sessions, utilizing Solution Focused Brief Therapy (SFBT), Dialectical Behavioral Therapy (DBT), Acceptance and Commitment Therapy (ACT), Cognitive Behavioral Therapy (CBT), Eye Movement Desensitization and Reprocessing (EMDR),  Motivational Interviewing (MI), Neuro-Linguistic Programming (NLP), and Person Centered Therapy.
Courage Reins will continue to follow health department and CDC guidelines as they relate to COVID-19 and gathering. As it's deemed safe to do so, Sage will offer weekly group therapy sessions for DBT Skills Education and Life Support. 
---
---
Occupational Therapy at Courage Reins is administered by OT's who have focused their careers and training in pediatric therapy. With over 50 years of combined professional experience, Courage Reins' team will provide incredible services to best meet the needs of your loved one.
Courage Reins provides the unique opportunity to meet in an engaging environment implementing clinical therapy that incorporates interaction with horses that is both fun and motivational, especially for children. It engages sensory, neuromotor, and cognitive systems in a unique and healing way. Our therapists focus on helping children strengthen and develop gross motor, fine motor, sensory motor, and visual motor skills.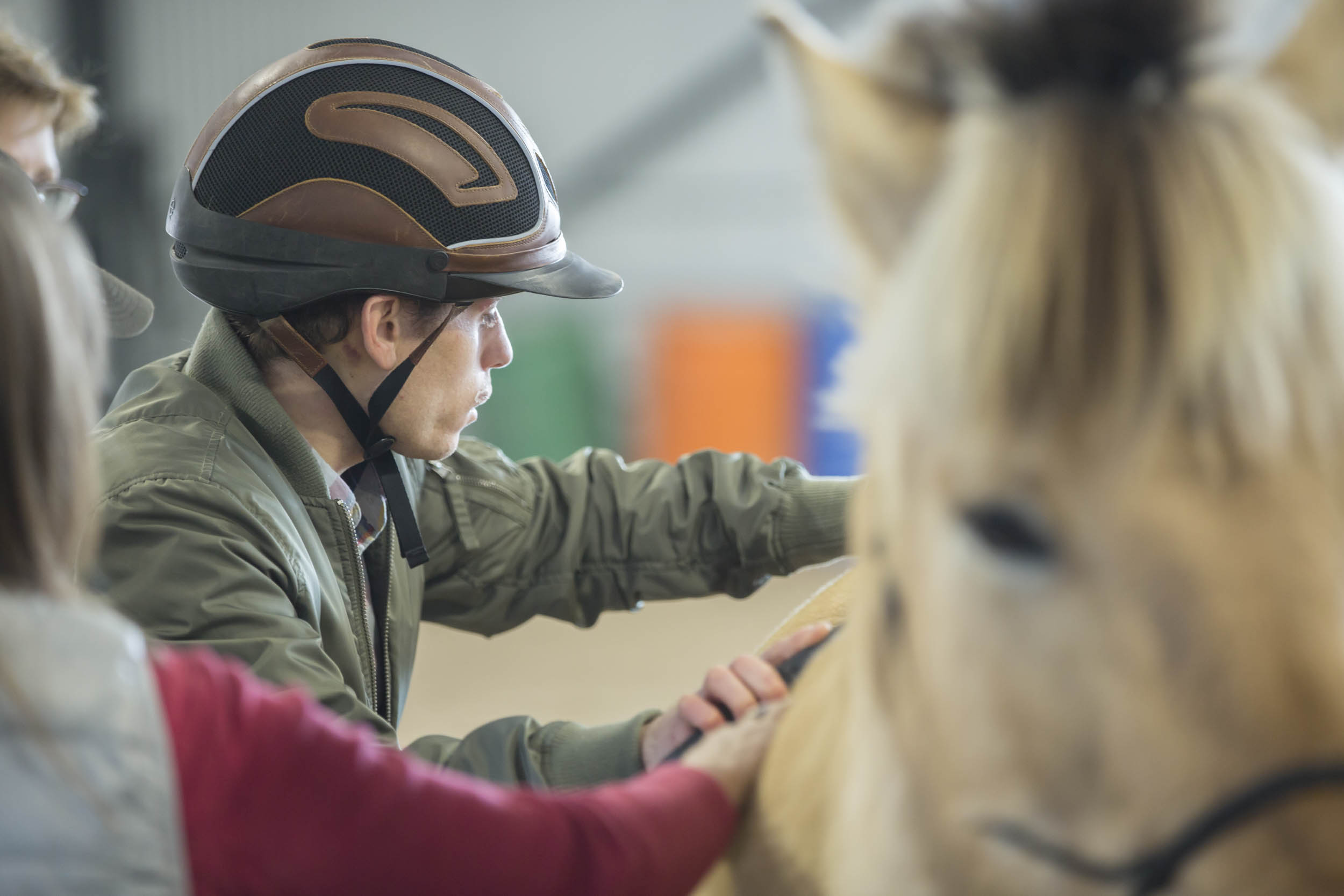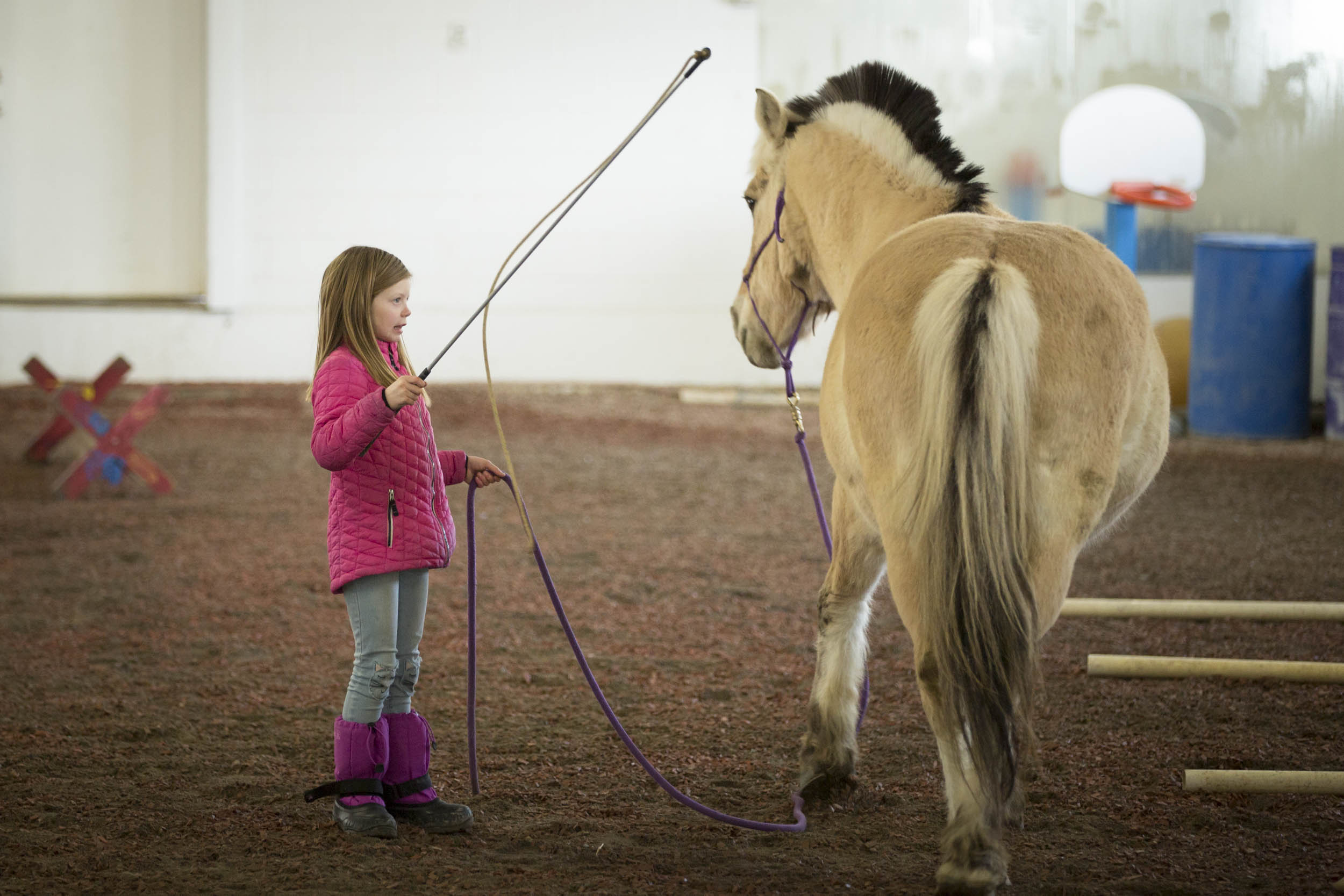 ---
There's a special bond between horses and humans — a relationship and understanding that has to be experienced to be fully understood. It's this unique, gentle connection that makes horsemanship a leading form of animal-enhanced therapeutic healing.
Leave your problems at the gate and experience the calming effect of connecting with a horse. We take the therapist out of the equation. Instead, highly trained volunteers and our experienced, loving horses help clients set and meet personal goals aimed at improving life quality.
Proven benefits of natural horsemanship include strengthened leadership skills, improved self awareness, improved interpersonal abilities/connection, gained confidence, and the ability to thrive and collaborate in a team environment.
---
---
---
Horseback riding for those with disabilities is recognized as one of the more progressive forms of therapy. The ability to control a horse as well as one's own body inspires self-confidence, responsibility, and teamwork. Best of all, it's fun! The rider/horse relationship is ever evolving, continually presenting new opportunities for growth.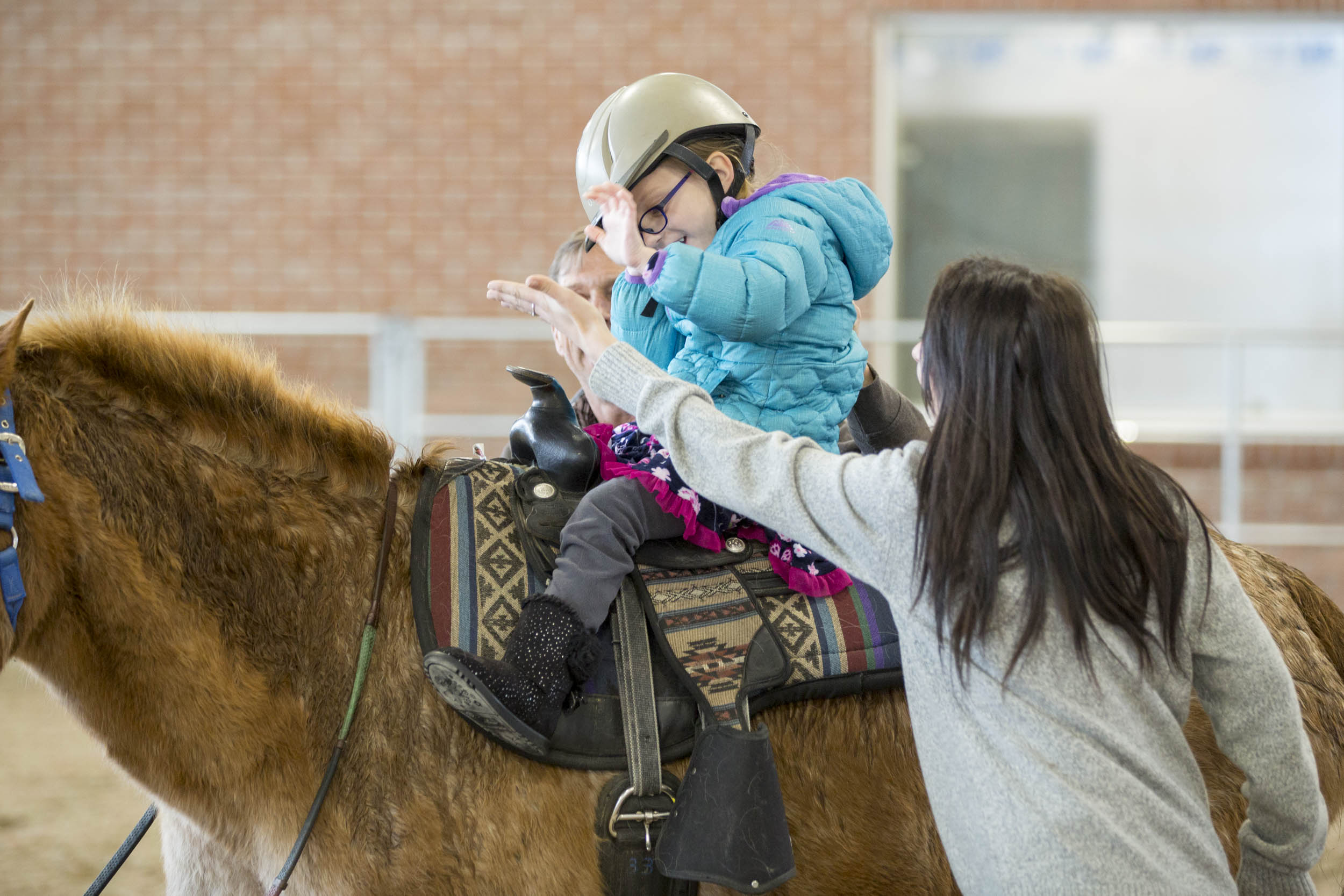 Equine-Assisted Psychotherapy
As strange as it may seem, adding a horse to the psychotherapy and learning equation may be the missing piece you or a beloved soldier you know have been looking for. Courage Reins is sensitive to challenges our service men and women can endure. In response, we offer benefit-rich therapeutic options.
Those who are familiar with horses recognize and understand their ability to influence people in incredibly powerful ways. The benefits of a good work ethic, personal responsibility and assertiveness, effective communication, and healthy relationships have been seen as contributing significantly to happy, well-balanced individuals. Horses naturally help us in acquiring these benefits.
The use of horses is gaining in popularity with the rise of new approaches in working with the horses, such as Equine-Assisted Psychotherapy (EAP) and Equine-Assisted Learning (EAL) activities. EAP incorporates horses experientially for emotional growth and learning. It is a collaborative effort between a licensed therapist and a horse to address treatment goals. EAL focuses on educational goals and the acquisition of a variety of life skills. These goals or skills can be defined by the individual or group.
---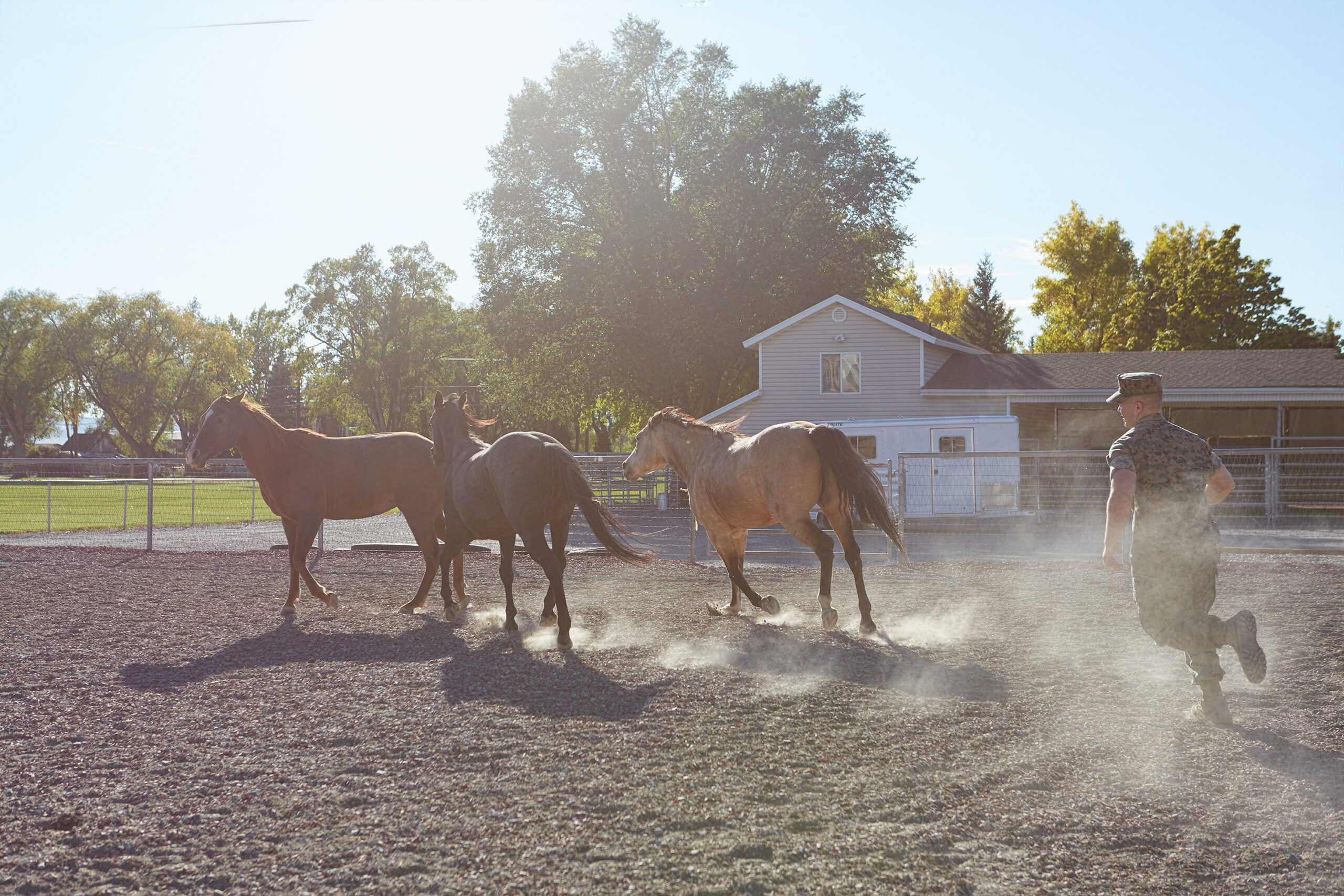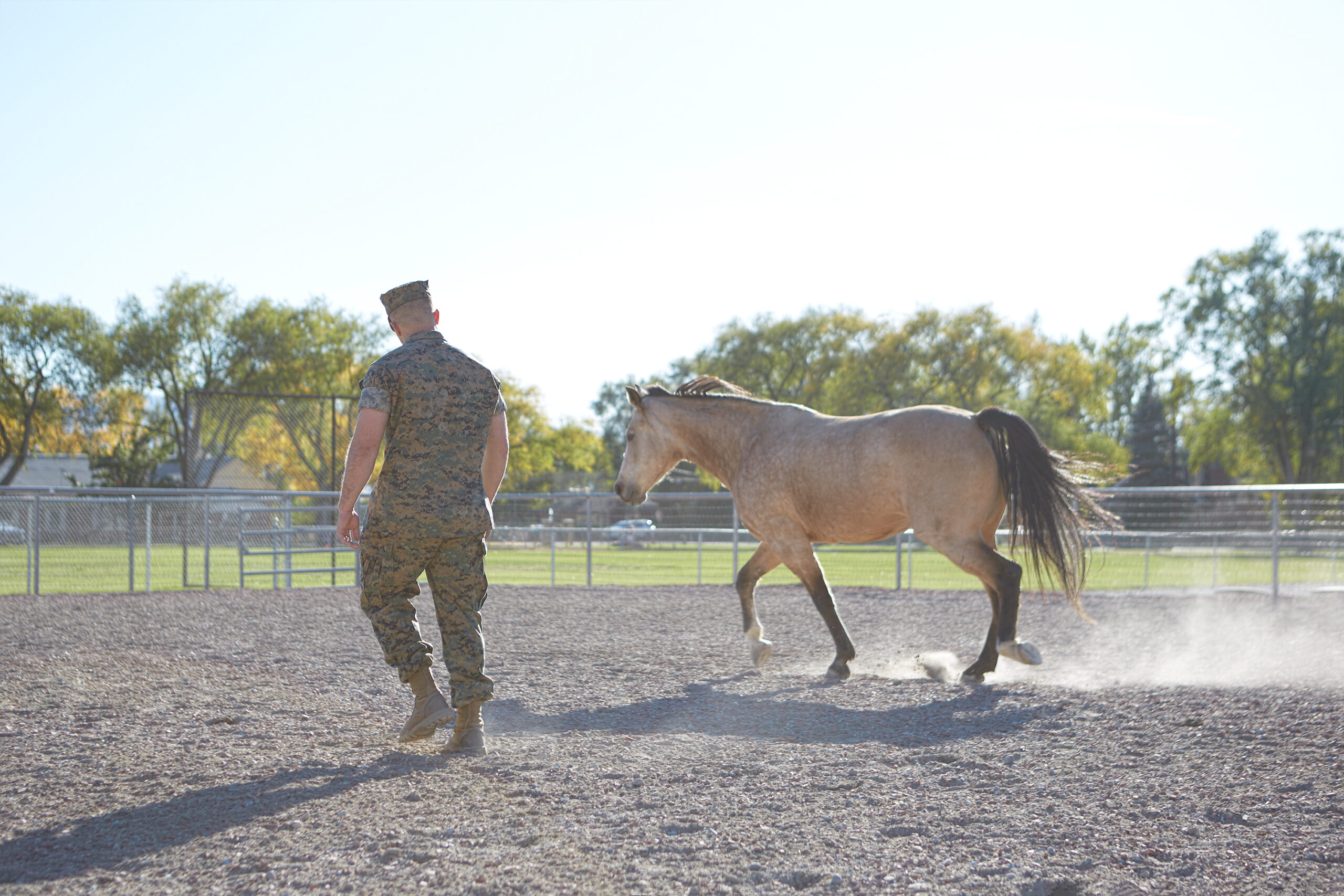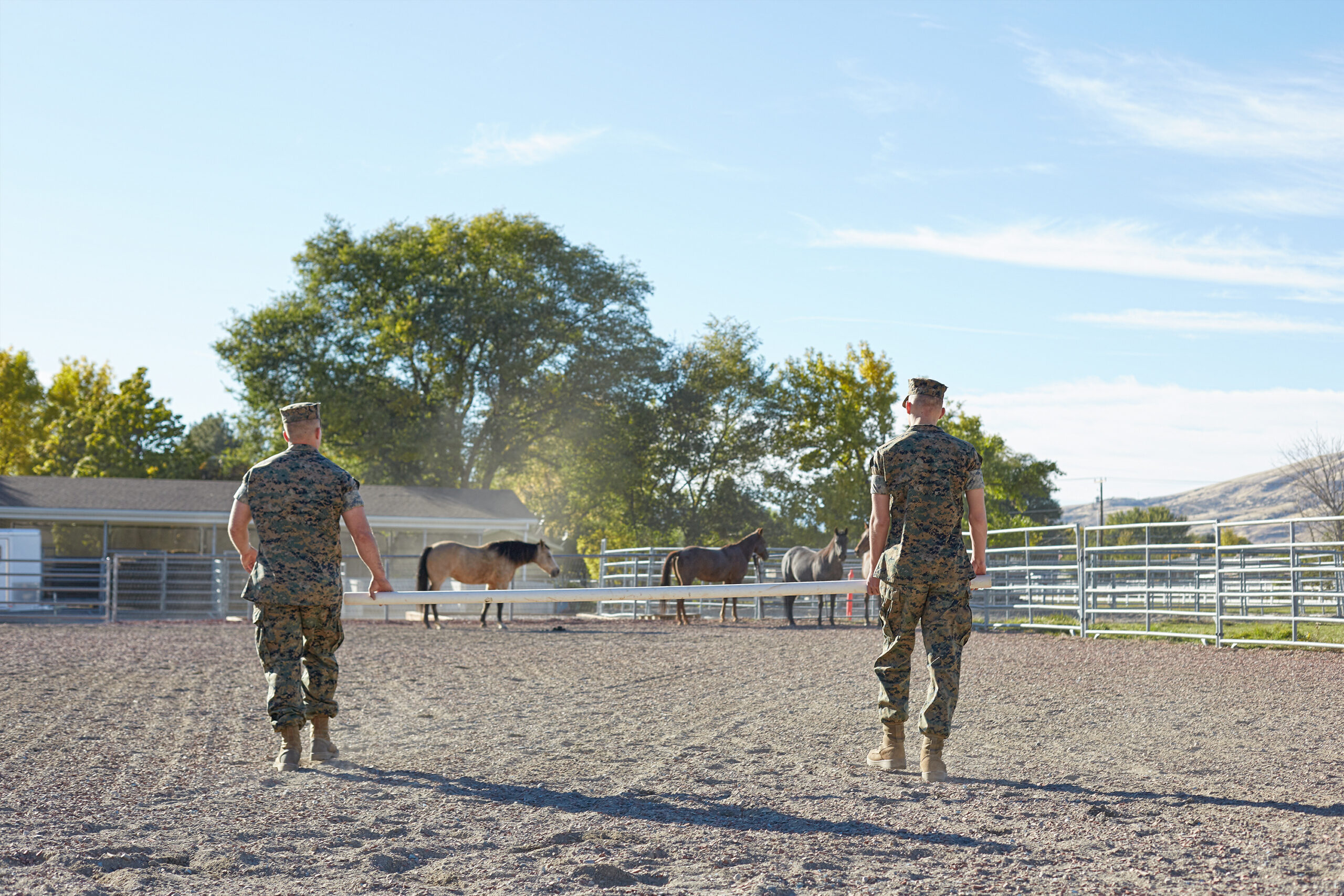 Thank you for your service.
Support for Those Who Serve
---
You've given so much to our country. This is our opportunity to give something back to you. Introducing FREE EAGALA Equine-Assisted Psychotherapy sessions at Courage Reins. This proven therapeutic model, developed by licensed mental health professionals, caters specifically to members of the armed forces suffering from service-related psychological complications, including:
Post-traumatic stress disorder (PTSD), combat post-traumatic stress, moral injury, traumatic brain injury, post-deployment/reintegration, survivor's guilt, grief, family conflict, and other service-related issues. Like every Courage Reins service, EAGALA therapy involves work with a complete and supportive treatment team, made up of a licensed mental health professional, our highly trained service horses, and a certified equine specialist.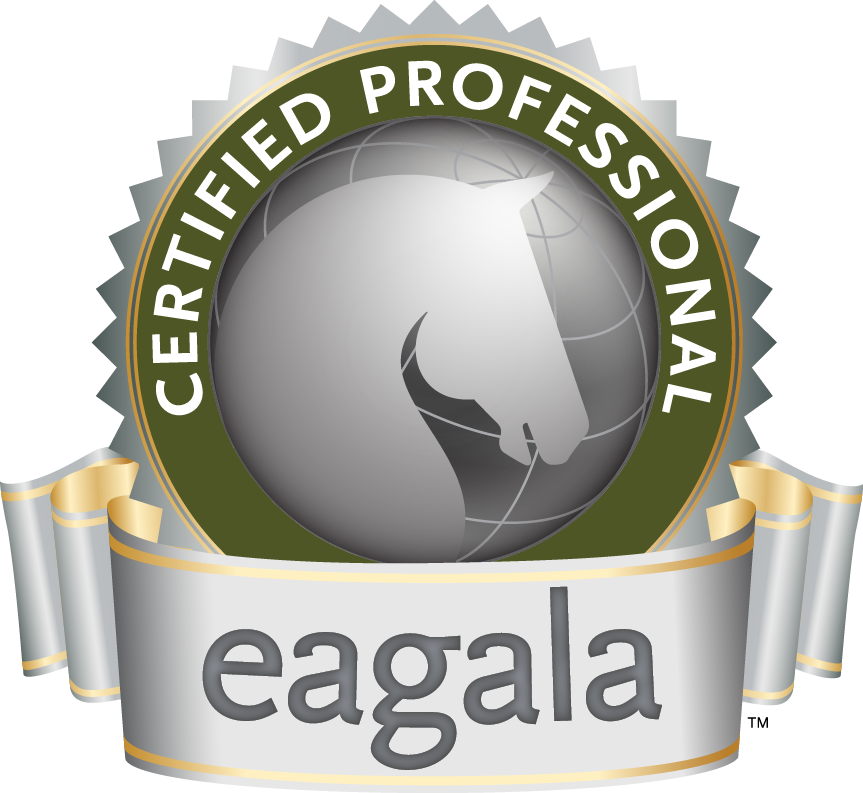 Fill out this form for more information on volunteering.
---
---
Fill out this form for more information on programs and services.
---
---
Fill out this form for Courage Reins general information.
---
---